Wurth Master Power Tool Warranty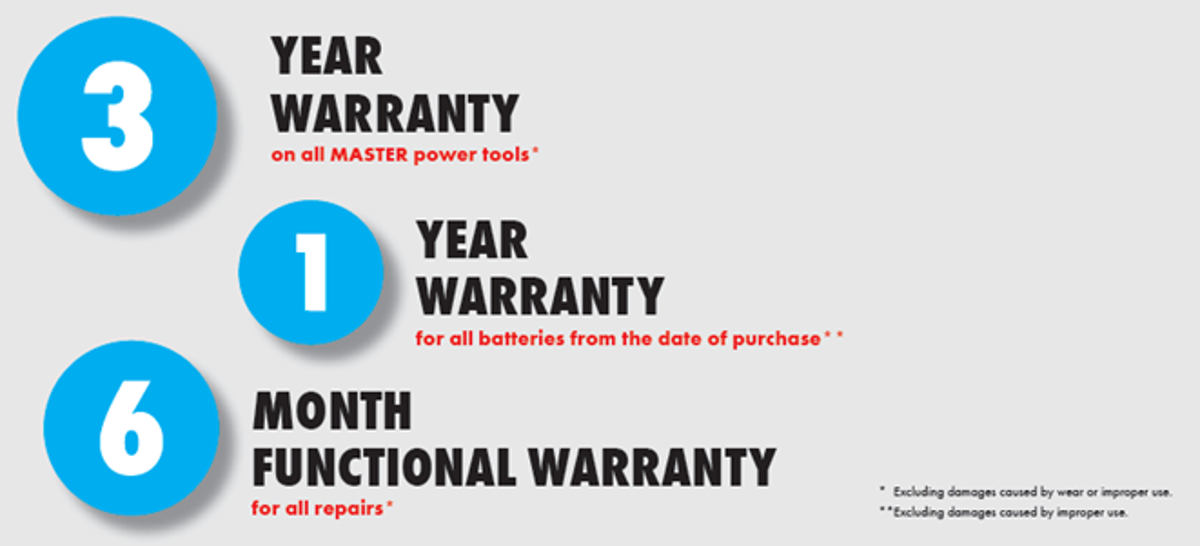 We guarantee outstanding quality for our products and services! That is why you automatically receive a 3-year warranty on all WÜRTH MASTER Machines without having to go through a tedious registration process for your equipment. In addition, you receive a 1-year warranty on batteries and a 6-month functional guarantee on all repairs. The warranty and functional guarantee do not cover damages caused by wear or improper use.
Customers who purchase MASTER tools products from Würth UK ltd for use in their profession are guaranteed that they will be free from defects in workmanship and materials.
If the machine is faulty according to our limitations* we will repair or replace the tool which has failed to performed.
*Limitations of Cover under Warranty:
• You must own the tool, the original invoice is decisive.
• Repair or replacement of tool will be determined by Würth UK Ltd
• Manufacturing Defects
• Material Defects:
Warranty does not cover
• No warranty for incorrect use
• No warranty for force and fall
• No warranty for foreign objects inside the machine
• No warranty for water damage and dirt
• No warranty for not following instructions
• No warranty for normal wear
Should you have a machine that is faulty please contact our customer service team on 03300 555 444 and they will be able to arrange collection of the tool.
The tool will then be sent back to our MASTERSERVICE team in Germany for inspection.
Once your machine has been inspected we will contact you with details or any repair or replacement that is needed.
​ ​