Ideal for quickly and easily aligning windows, hanging doors, clamping and more
Viking Arm is our new high quality assembly tool that allows you to single-handedly perform assemblies and adjustments with a minimum of effort. The Viking Arm is perfect for many heavy lifting, lowering and clamping tasks in a multitude of trades!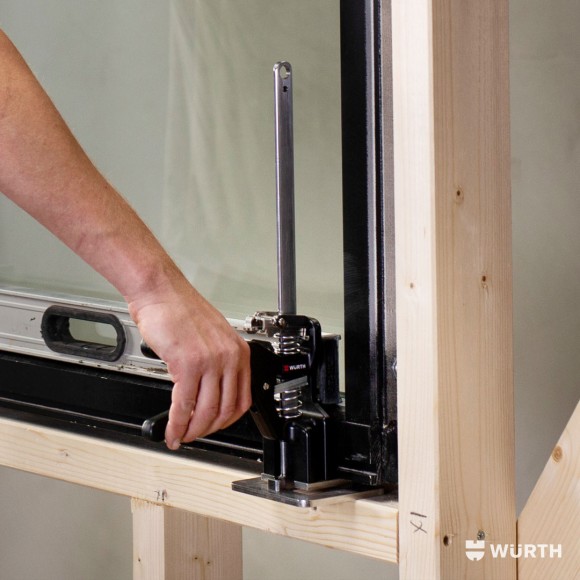 The spring tensioned trigger allows you to incrementally expand the tool and raise objects
The release pump allows controlled lowering of the mechanism.
Heavy objects can be carefully and precisely positioned with less strain on the operator.
The maximum load of the Viking Arm is 150kg, allowing you to mount windows and other elements with ease.


This setting tool allows precise adjustment of your work pieces to the millimetre. The Viking Arm's expansion power can also be used as a setting tool by pressing elements together in a controlled manner that keeps the pressure on!
The flat panel of the Viking Arm can be swapped with differently sized attachments for versatility in your craft. The tool can be turned around and used as a clamping tool, allowing you to trade its expansion strength for powerful clamping with the same easy one-handed operation.
The Viking Arm is extremely handy for window installers, fitters, joiners and all other trades requiring fine adjustment and heavy lifting when working independently.
Websites may store or retrieve information in the form of cookies in your browser. These may be anonymous statistical information, information about you, your preferences, or devices used to enable a personalized web experience or for the site to function as you expect it to.
We respect your right to the protection of your data. Therefore, you can decide not to accept certain types of cookies. An overview and the settings for the cookies we use can be found here. You can change these settings at any time when you visit our privacy policy.
Würth is allowed to personalize your web experience.
By saving, you confirm that you have understood the specified settings for cookies and agree to them."
The Adolf Würth GmbH & Co. KG collects and processes the personal data provided in the form in order to process the requested request for you. Please note the mandatory fields in the forms. The legal basis for this processing, the absolutely necessary data, is Art. 6 para. 1 lit. b GDPR, implementation of a pre-contractual measure. The processing of data voluntarily provided by you is carried out on the basis of Art. 6 para. 1 lit. f GDPR. Thereafter, processing is permissible which is necessary to safeguard our legitimate interests. Our legitimate interest is to have contact with you, our customers, to improve our consulting quality and to be able to contact you more easily in case of possible queries. The data collected will only be stored by us for as long as is necessary to process your enquiry and to contact you. They are then deleted.

Supplementary data protection information, in particular regarding your rights to information, correction, deletion, restriction of processing, objection and complaint, can be found in our data protection declaration.